Reliable, complete implementation of the courses even in times of crisis!
If face-to-face classes are not always possible on site, individual modules will be based on ours
proven blended learning concept takes place live online and interactively on the virtual CONSENSUS campus.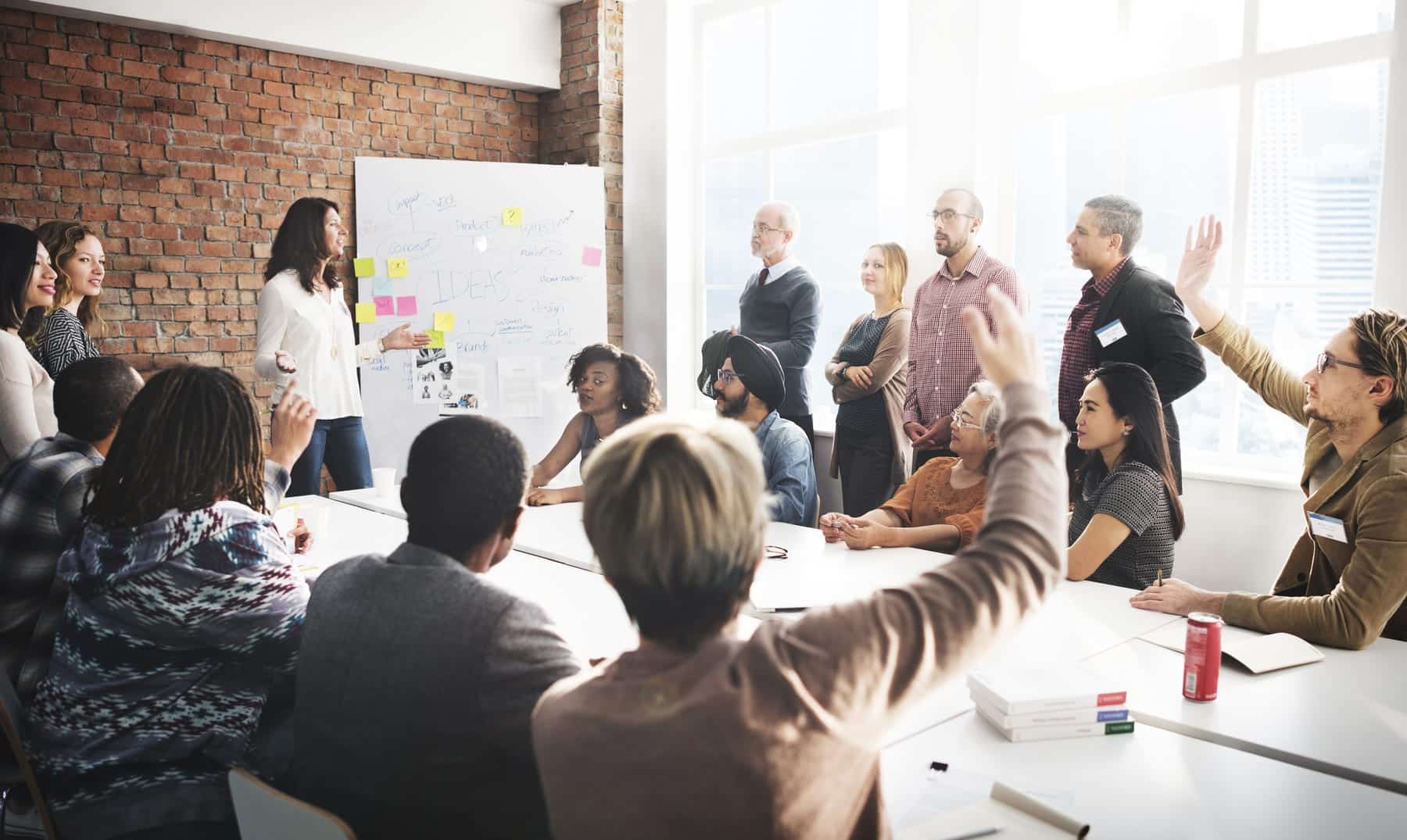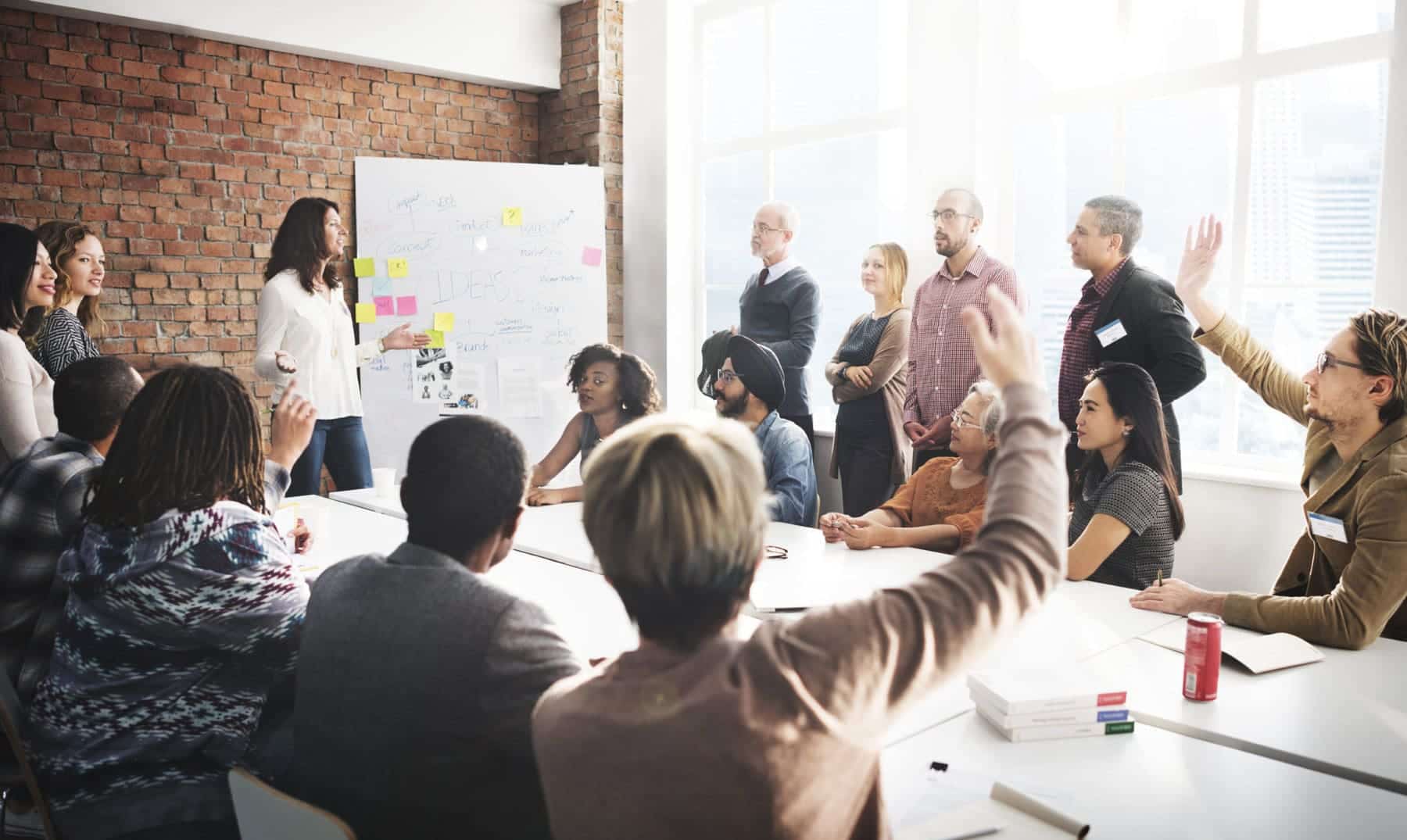 Mediation Training in Hamburg – Fall 2020
Become a certified mediator with focus on strategic mediation / interest management
5 modules 3 days each
This course will be held in German language.
The course
For the first time in Germany, Consensus Campus offers an English-language training to become a certified mediator. The course is particularly aimed at a highly qualified international audience looking for professional reorientation in Germany. Over a period of six months, up to ten people from different cultural and professional backgrounds will attend five three-day modules. The training enhances leadership and conflict management skills andprovides with a legally recognized professional qualification.
Please note that this training course only takes place with at least 6 participants.
What you will learn
Each training unit offers a lively mix of scientifically-based presentations, interactive exercises and role play sessions based on real conflicts, followed by a detailed review.
Your takeaways
After the completion of the training, our certificate holders are excellently prepared for a career as an executive, a consultant or a mediator in their own private practice.
Optional add-on practice package
When you book our add-on practice package, we even guarantee you your own mediation or co-mediation case within one year of completing the basic course and carry out the subsequent supervision so that you meet all the requirements together with the training course to carry the title "Certified Mediator".
Content:
the mediation of a first own mediation or co-mediation case as a recognition case for the certification

the accompaniment of a first own mediation by being available before and during the mediation for any questions

a 90-minute individual supervision with supervision certificate

Instructions and review of the case documentation, possibly with suggestions for improvement.
CONSENSUS Campus In Hamburg
Location in Hamburg
CONSENSUS GMBH
Neuer Wall 2 – 6
20354 Hamburg
Seminar Dates in Hamburg
Fr. 25.09. – So. 27.09.2020
Fr. 23.10. – So. 25.10.2020
Fr. 20.11. – So. 22.11.2020
Fr. 22.01. – So. 24.01.2021
Fr. 26.02. – So. 28.02.2021

Seminar Times
Day 1: 2pm – 8pm
Day 2: 9am – 7pm
Day 3: 9am – 5pm
Appointment doesn't fit?
All training modules are self-contained. If you cannot be present for an appointment, you can make up for the missed module in the next training course or instead switch between the Stuttgart and Hamburg training courses (after consultation and availability!).
Investment
The participation fee for the training course to become a certified mediator with a focus on strategic mediation and interest management totals € 3,675.00. Payment in four installments is possible. Whoever pays the total amount within 14 days after billing at once, receives 75.00 € discount. The training course is exempt from VAT.
Eligibility Requirements
University degree and/or at least five years' relevant professional experience
Minimum age 26 years
Curriculum vitae submission
Positive admission interview
Very good knowledge of the English language
Mediation Training in Hamburg – Fall 2020
Sign up now! (binding registration)
This course will be held in German language.
We are there for you
Your contact persons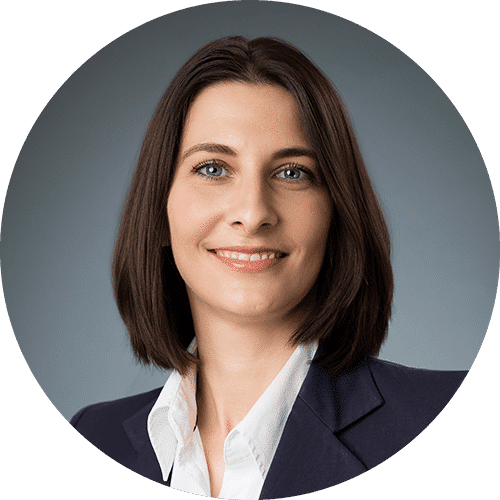 Sabrina Beichter
Sabrina Beichter is responsible for training supervision / coordination at CONSENSUS Campus. She will be happy to answer all your questions about our educational offers.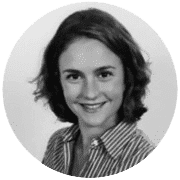 Alexandra Kieffer
Alexandra Kieffer is responsible for training supervision / coordination at CONSENSUS Campus. She will be happy to answer all your questions about our educational offers.
Do you have any questions about our courses? Arrange a personal free consultation appointment now:
Your skills as a mediator
With our training you cover a wide range of competencies based on knowledge, skills and self-reflection: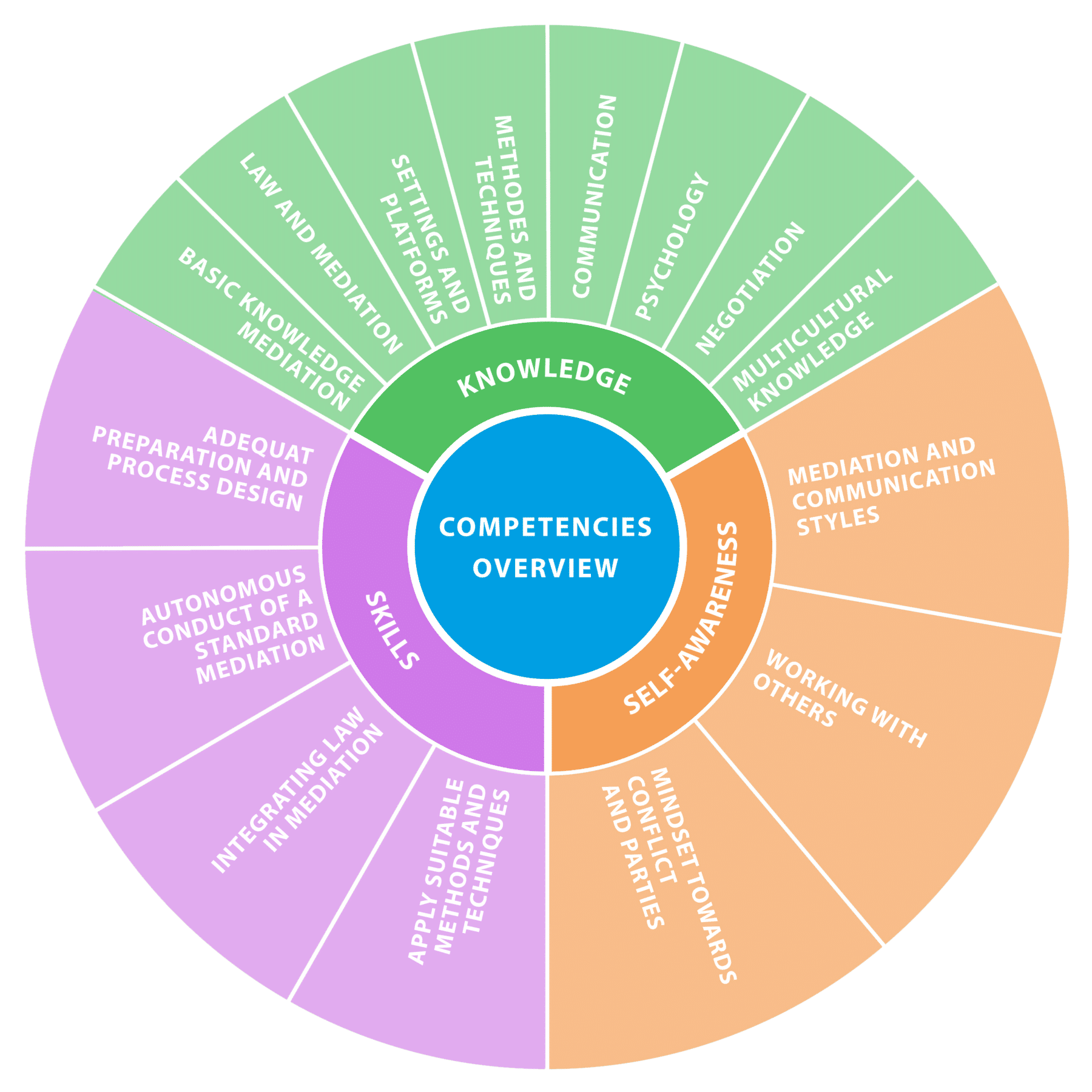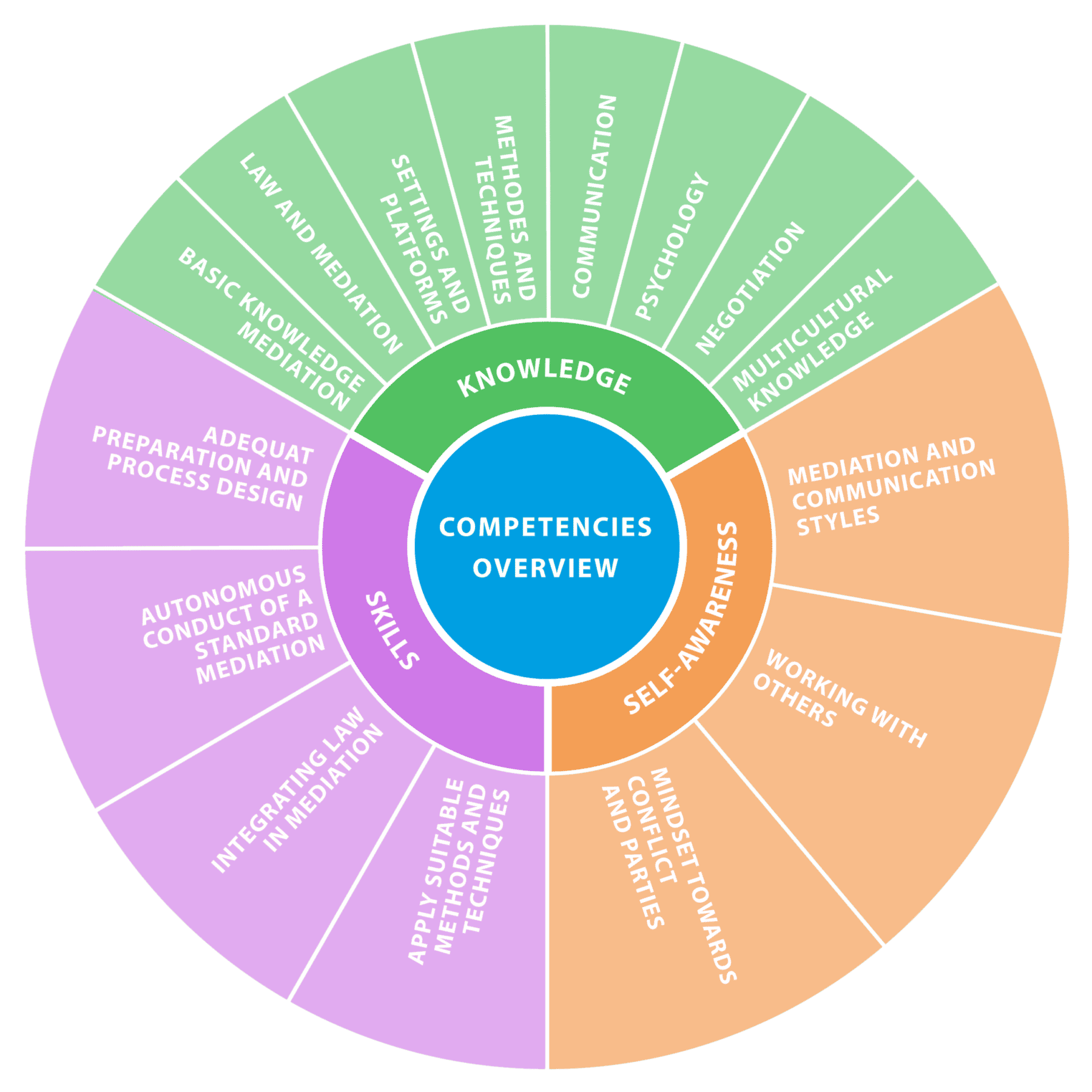 "A strong format, paired with optimal course support, has made mediator training an absolute win for me. I am fit for mediation. Thanks to the whole CONSENSUS team."
Christina Ehms
Graduate of the training course to become a certified mediator, April 7, 2019
I liked the various offers in the modules best. The techniques have been explained or demonstrated so well that I am already incorporating many into my work.
Rotraud Konca
Certified mediator. Head of Equal Opportunities Office at the University of Hohenheim, 02.09.2018
The different lecturers, varied seminar days and the different backgrounds of the participants make the course particularly great and worth experiencing. On the side of CONSENSUS there was an open ear for all questions and concerns.
Ann-Kathrin Balle
Graduate training course - certified mediator, February 2020
- FORCAM GmbH
Varied and exciting topic modules, carried out by very competent trainers, have made mediation training a great pleasure.
Eva H.
Graduate training course - certified mediator, February 2020
- DFROST
In mediator training, care was taken to ensure that all participants were actively involved in the tasks, discussions and practical cases. It was also possible to bring in own case studies from everyday work.
Vanessa H.
Graduate training course - certified mediator, February 2020
An excellent deepening of my competence in dealing with conflicts in working life. Helps to learn specific instruments. But also practice from a meta perspective with a helpful look at embedding the conflict. Recommendable!
Ute G.
Graduate training course - certified mediator, February 2020
I found this training really successful. It absolutely met my expectations. It will have a lasting effect in my life. I realized how important it is to respond to interests and needs and how different the perceptions can be.
Thomas Tröster
Graduate mediation training Stuttgart, February 2020
The team of lecturers is extremely competent and experienced. In addition to knowledge, tips & practical examples, we were also provided with above-average snacks, cakes, coffee and drinks. Thank you for the exciting & pleasant time!
Felix B.
Graduate in mediation training Stuttgart, February 2020
One of the most valuable trainings in my life. Both privately and in business, a new way in which conflicts can be solved methodically and practically. It confirms how much the focus is on people and their needs.
Graduate of the mediation course Stuttgart, February 20200
I liked the course very much because not only theory but also a lot of practical exercises were done to be able to apply the theoretical knowledge. It was very varied and educational.
Natalie P.
Graduate in mediation training Stuttgart, February 2020
Why CONSENSUS Campus is for you
Real experts - real practical cases
All CONSENSUS trainers are experienced, practicing mediation professionals from the CONSENSUS team, which analyzes processes, develops strategies and carries out customized interventions for clients from business and administration. They come to your training seminar directly from a team building workshop, a coaching or a business mediation they just conducted. From time to time you even have the opportunity to attend a conflict resolution process in practice or an in-house workshop. As a result, you learn directly at the interface to practice and benefit from current CONSENSUS cases.
Mediation training 4.0
At CONSENSUS Campus we prepare you for the most important future trends in mediation. This includes mediation in agile structures as well as live online mediation, which suddenly became indispensable due to the corona crisis and has become increasingly important on the market. Even in our basic training, we teach you essential digital skills in our virtual classroom. The personal encounter on site is and remains the focus of our training. With our innovative blended learning concept, you will learn the most important methods so that you, as a mediator, can work empathetically with conflicting parties in both real and virtual space. So you are crisis-proof and fit for the future.
Small learning groups with a lot of variety and personal support
At CONSENSUS Campus you will be part of a small learning group of up to eight participants enjoying the personal, customized support of your trainers and mentors. We value a lively, entertaining curriculum: presentations in the plenary alternate with interactive exercises and role-playing games. You will be taught by different experts from our team and at the same time have a constant contact person who will accompany you throughout your learning journey and above all support you with case work. You will benefit from the diversity of our team, get to know the different facets of mediation and always have a common thread.
International orientation and networking
The CONSENSUS team is active all over Europe and teaches in several major German cities, with an additional Brussels Campus in the planning stage. Thanks to our participation in the annual mediation competition of the International Chamber of Commerce in Paris, we cultivate our contacts with leading mediators from all over the world. Furthermore, we are affiliated to the International Mediation Institute (IMI). This way, you will become part of an extensive network of alumni and CONSENSUS mediators who maintain a lively collegial and professional exchange after completion of their training. In addition to German-language courses, we are the only training institute in Germany to offer English-language mediation training. As part of the mediation training, we promote intercultural competence and a look outside the box.
Scientifically based curriculum
Together with experts from the field, renowned scientists design your curriculum and visit your training seminar. This is how we ensure that the latest findings from communication science, psychology and research on the impact of mediation are conveyed to you. You will not only receive a tool box, but also an in-depth understanding of how and why your methods work.
Find your own practical cases: We help you!
As CONSENSUS Campus alumni, you have the exclusive and free option of being registered on the platform https://konsens-fuer-alle.de/listen, thus increasing your chances of gaining practical experience as a mediator in the shortest possible time, e.g. for your first mediation case needed for initial certification and / or other cases for maintaining your title. When you book our Add-on Practice Package, we even guarantee to provide you with your own mediation or co-mediation case within one year of completing the basic course plus we carry out the subsequent supervision, so that together with the training course you will meet all the requirements for the title of "Certified Mediator". CONSENSUS makes it easy for you to start practicing as a mediator!
FAQ
Frequently asked questions
1. How do the module weekends work?
The mediation training comprises 5 modules, each with 24 hours of instruction. As a rule, lessons take place in the centrally located training rooms of CONSENSUS Campus. The learning unit for live online mediation is taught in the virtual classroom. The respective modules take place on weekends at intervals of approx. 4 weeks. On Fridays the first day of the seminar starts at 2 p.m. and ends at 8 p.m. Saturdays are from 9 a.m. to 7 p.m., including a long lunch break. The last day on Sunday is from 9 a.m. to 5 p.m.
2. What are the requirements for mediation training?
Prerequisites for participation in mediation training are a completed academic education and / or at least five years of relevant professional experience, a minimum age of 26 years and the submission of a curriculum vitae. In a telephone or personal admission interview, our training manager Dr. Imke Wulfmeyer ensures that all participants fit into the group in terms of their qualifications. Open questions from interested parties can also be discussed.
3. What happens if I miss a module weekend?
CONSENSUS CAMPUS ist in verschiedenen Städten (Stuttgart, Hamburg, Berlin etc.) vertreten. Wir bieten unseren Teilnehmenden an, für einzelne Module zwischen den Ausbildungsgruppen der verschiedenen Standorte zu wechseln, falls sie ein Modul aus gesundheitlichen, beruflichen oder privaten Gründen nicht in ihrer eigenen Ausbildungsgruppe besuchen können. Sofern dort freie Plätze verfügbar sind, ist es möglich das entsprechende Modul in einem der parallel stattfindenden Kurse auf einem anderen CONSENSUS CAMPUS zu absolvieren. Alternativ dazu kann das versäumte Modulwochenende in einem späteren Ausbildungslehrgang nachgeholt werden. Die Ausbildungslehrgänge finden in der Regel zweimal pro Jahr statt.
4. What are the main focuses of mediation training at the CONSENSUS Campus?
The CONSENSUS Campus lecturers have different professional backgrounds and focuses. An interdisciplinarity from law, communication science, psychology, economics, etc. makes sure to consider different aspects of mediation. The lecturers work in different fields of mediation: business mediation, family mediation, but also coaching and team mediation.
5. What does "strategic mediation / interest management" mean?
Because CONSENSUS acts as a consultant in commercial companies and organizations, certain priorities are set even during basic training: We see conflict management and conflict prevention as a strategy for companies and organizations to meet the challenges of a changing working environment. With mediatic competence, interest-based solutions can be developed for in-house projects, for personnel development and for negotiations with contractual partners. These aspects are particularly interesting for the participants in our mediation training because many of them would like to use the skills acquired in this training at their workplace or for their future career in the company.
6. Who are the CONSENSUS Campus trainers?
Die CONSENSUS CAMPUS Ausbilderinnen und Ausbilder weisen verschiedene berufliche Hintergründe und Schwerpunkte auf. Eine Interdisziplinarität aus der Rechtswissenschaft, Kommunikationswissenschaft, Psychologie, Wirtschaftswissenschaft u.a. stellt sicher, verschiedene Aspekte der Mediation zu betrachten. Alle CONSENSUS CAMPUS-Ausbilder sind ausgebildete und praktizierende Mediatoren aus unterschiedlichen Feldern der Mediation tätig: Wirtschaftsmediation, Familienmediation, innerbetriebliche Mediation und Mediation im öffentlichen Raum.
7. What is part of the training - in addition to the 120 hours of classroom instruction?
In order to successfully complete the training course to become a certified mediator, a self-mediated case (in the course of the year after completion of the training) as well as a case-by-case supervision and corresponding case documentation are required - in addition to the 120 hours of classroom instruction at the CONSENSUS CAMPUS. CONSENSUS CAMPUS offers all graduates the exclusive and free option of being registered on the https://konsens-fuer-alle.de/listen platform in order to find their case of recognition for the first-time certification and / or other cases for obtaining their title .
8. What is covered by the course fees?
What is covered by the course fees?
The course fee covers the 120 hours of classroom instruction on the CONSENSUS CAMPUS. In addition, we offer "add-on" packages that include the mediation of the first practical case and supervision.
9. Who do I get supervision from?
CONSENSUS CAMPUS conducts supervision for the graduates of our mediation training for a fee. All trainers can be booked for supervision. If the required qualification is proven, supervision can also be carried out by external supervisors.
10. How can the course fee be paid?
The course fee can be paid in one installment or in four installments for a small surcharge.